Phlegraean Fields: a detailed study on seismic phenomena online on the INGVvulcani website
The text is edited by Mauro Di Vito, Francesca Bianco, and Carlo Doglioni.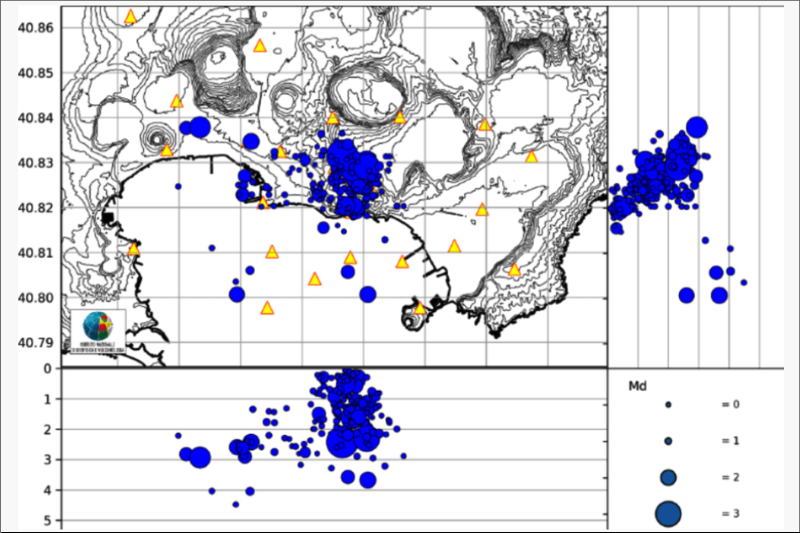 Yesterday, August 24, the National Institute of Geophysics and Volcanology, partner of the I don't take risks campaign, published on its blog INGVvulcani an interesting study entitled "The origin of seismic swarms in the Phlegraean Fields". The study was edited by Mauro Di Vito, Director of the Naples section of the Vesuvius Observatory, Francesca Bianco, Director of the Ingv Volcanoes Department, and Carlo Doglioni, President of Ingv.
The report comes at a time of particular attention for the Phlegraean Fields: in recent weeks, in fact, the area has been affected more frequently by seismic swarms, as the one occurred on August 18, which resulted in just over one hundred earthquakes of magnitude greater than or equal to zero, and maximum magnitude 3.6 (± 0.3). Seismic events related to volcanic activity were felt by the population but resulted in no damage, as reported by the Civil Protection Department.
At this time, the need to provide more information on the situation in the Phlegraean area arose. With these purposes the Ingv (the Italian National Institute for Scientific and Technological Research), which manages, through the Vesuvius Observatory, the monitoring of the volcano's parameters relating to seismicity, ground deformations and the physical-chemical characteristics of fumaroles, was drafted. Among the most important information reported in the paper is the indication that, based on monitoring data, "currently the probability of a volcanic eruption is relatively low, precisely because there is no evidence of magma rising to the surface".
As for the initiatives to inform the population on the volcanic risk in the Phlegraean area and the correct behaviour to adopt, please refer to the dedicated section on this website.